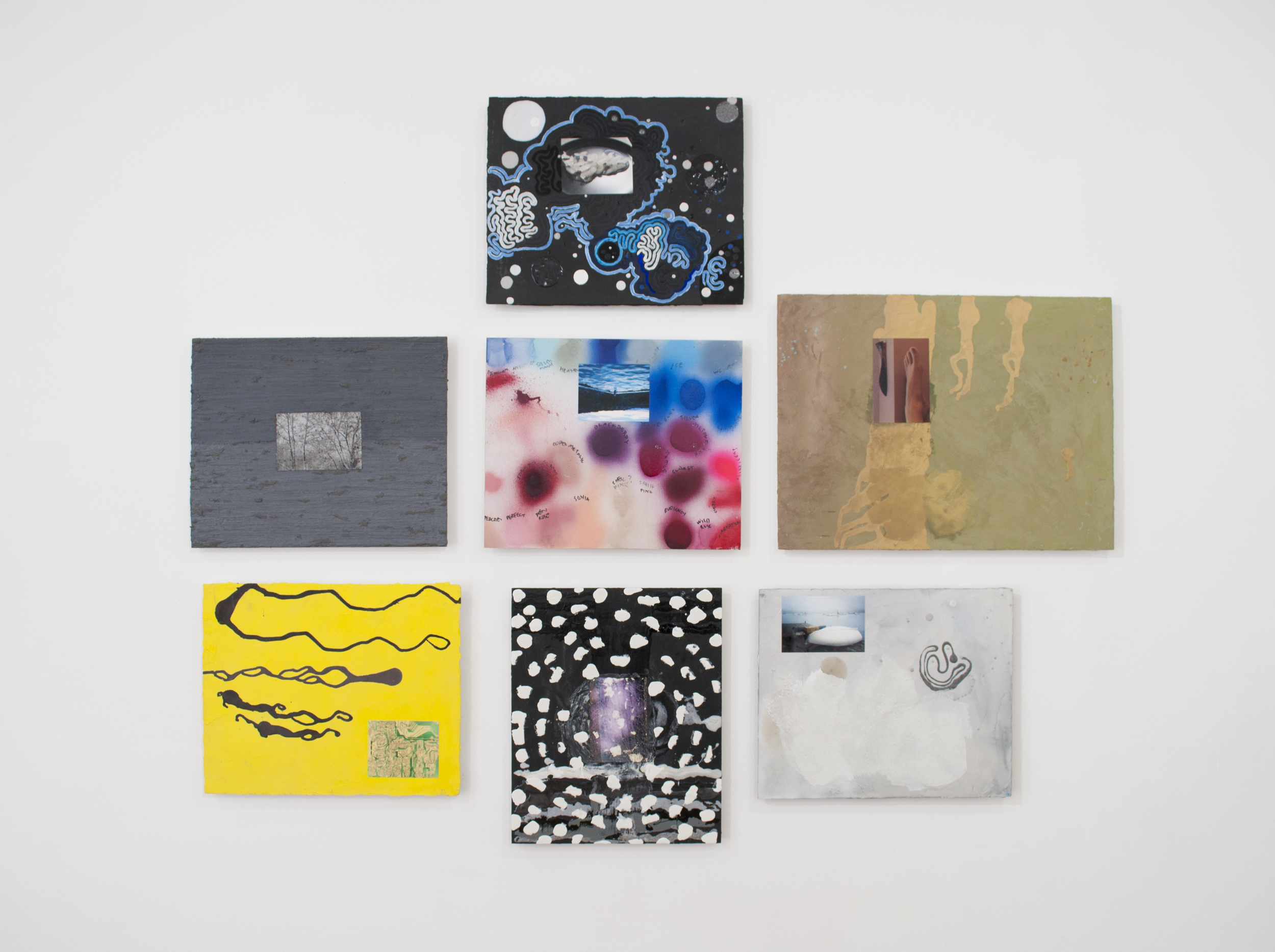 There are still well over 15,000 AM and FM radio stations in the United States but far fewer channels.

This past summer while driving to Bard from Philadelphia I had the radio on.
As I drove I listened to the same frequency the whole way through New Jersey, until the station turned from songs to static. The highway was crowded, and I needed to focus, so I left the audio up. Gradually, as I made my way past New York City, the broadcast became clear again and the static subsided.
When the station went to commercial, I realized this was a new station––different call letters but same channel, same type of music. The artists in Broadcast fromCedarburg, New Jersey all have passages like this in their work, though they are in tune with them differently. They are clear yet elusive and slippery, then clear again. Using painted fields of color, sculptural form, and performative collage, these artists force me to see their media in a new way, as though hearing static that actually as a tune. I imagine Cedarburg, New Jersey is somewhere out there––halfway between two other places; picking up every frequency and every station at all times.
-Matthew Sepielli

The artists:
Aurora Andrews grew up in Tucson and lives in Brooklyn. She has an MFA in painting from Bard College.

Gill Arnò was born in Italy and moved to NYC in 1997. He studied graphic design and worked as a designer and typographer before turning to improvised music and sound art. In 2015 he completed a Master in Fine Arts (Music/Sound) at Bard College, Annanadale-On-Hudson, NY. Starting in 2006, his studio in Brooklyn has been the home of an irregular series of improvised music concerts (www.fotofono.net), and of the publishing project Unframed (www.unframedrecordings.net). He has performed at venues in North America and in Europe.

Among Frank Bramblett's (1947-2015) recognitions are awards by the Pennsylvania Council of the Arts, the National Endowment in the Arts, and the Pew Fellowship in the Arts. His work has been featured in exhibitions locally, nationally, and internationally at such venues as the Levy Gallery of Moore College of Art in Philadelphia, Art Sites Gallery in Riverhead, New York, Bykert Gallery in New York, and Galeria Arsenal in Bialystok, Poland. HIs career retrospective took place at the Woodmere Art Museum in Philadelphia in 2015. Bramblett received his MFA at Yale University in 1972 and his BFA at the University of Georgia in 1970.

Jacob Feige is a painter and teacher residing in the suburbs of Philadelphia. His work has been exhibited at Rule Gallery, Denver; Lombard Freid Projects, New York; Chambers Fine Art, Beijing; and Movement, Worcester, UK and written about in Artforum, Frieze, The New Yorker, and Art in America. The Phaidon Press anthology of contemporary abstract painting, Painting Abstraction, includes a section on his work.

Ezra Tessler lives and works in Brooklyn, New York. He is a recent MFA graduate in painting at at Bard College.

Nina Yuen holds an MFA from Bard College and a BA from Harvard University. She completed a residency at the Rijksakademie, Amsterdam in 2010.
An accompanying Broadcast from Cedarburg, New Jersey book includes writing by Matthew & Andrew Sepielli.

Matthew Sepielli is a painter living in Philadelphia. He received his MFA from Bard College and his BFA from Tyler School of Art.

Andrew Sepielli is an Assistant Professor of Philosophy at The University of Toronto. He received his Ph.D. from Rutgers University, his J.D. from Yale University and his A.B. from Princeton University. His research interests are meta-ethics, normative ethics, and philosophical psychology, with side-interests in pragmatism, Nietzsche, and the philosophy of law.